| | |
| --- | --- |
| Posted on November 5, 2016 at 1:31 AM | |
Article from the Winslow Mail (Courtesy of The Old Trails Museum) October 8, 1926, P.
WILL START WORK SOON ON NEW 650 SEAT THEATRE HERE
      Although the contract for the structure has not been let, it was definitely started this week by John Brancord, proprietor of the Opera House, that work on his contemplated new theatre building on Kinsely Ave. Will be under way in the very near future. The building is to be situated between Second and First St.,on the site of The Old Bank of Winslow, which Brancord purchased some time ago. Excavation work has already started. 
      Winslow's new theatre will be of fireproof construction, two story height, and will seat approximately 650 people. The front of the building will contain two stories, and two store rooms will occupy part of it. The remainder will be the same height, to allow for ventilation and air space. 
Four contractors are understood to be bidding on the structure, but only one bid is in thus far. Barncord's aggressive program calls for the building to be finished by February  1st and he states that in case none of the bids are satisfactory, he will start the building himself.
     It is reported that the building is to cost approximately $30,000.00, and will be one of the finest theatres in Northern Arizona when completed.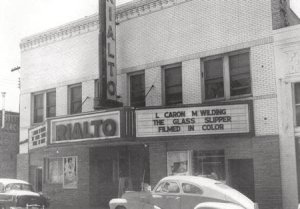 To the joy of northern Arizona residents, the Rialto Theater opened in Winslow in July of 1927. Built by Rickards and Nace Amusements, the new theater had fine opera chairs and an air conditioning system. It was said to be one of the finest in the state of Arizona. At first there were only silent movies, but in 1929, a $20,000 sound system was installed and the "talkies"(movies with sound) arrived. The first movie with full sound to play in Winslow was Broadway Melody. This photo shows the theater in the 1950's, after the marquee lights had been removed from the canopy. (Photo Courtesy of The Old Trails Museum)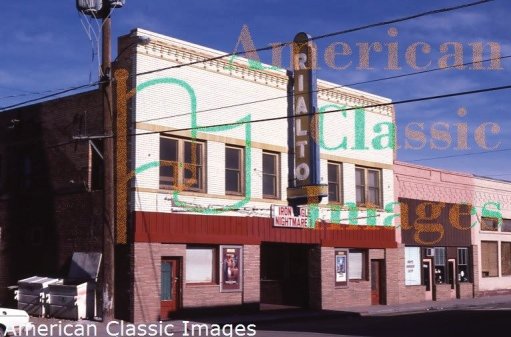 Mid-1980's (Marquee partially removed.)
Categories: History
/